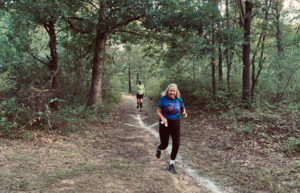 After a break in 2020, the Royal Oaks Sunrise Trail Race 10k run and 3 mile walk is back on Saturday, August 28 with a 6:30 am sharp start!
We created this race to help get folks out on our beautiful trails in Big Creek Conservation Area and Thousand Hills State Park, and with its rock bottom $10 entry fee you might as well register now at ultrasignup.com (remember to set your alarm too).
The 10k starts at the Royal Oaks Trail Head on the south end of Big Creek Conservation Area, runs north along Royal Oaks Ridge for about 1.5 miles, then takes the Rainbow Basin Loop counter-clockwise before returning to the Royal Oaks Trail Head while the 3 mile course runs south 1.5 miles on Royal Oaks Ridge then returns back.
And this year you also have a chance to purchase a FLATS Trucker Hat when you register thanks to the incredible support of official race hotel Holiday Inn Express & Suites.
As always many thanks to all the volunteers, to the Missouri Department of Conservation, and Missouri State Parks for maintaining these trails so we can all enjoy them.